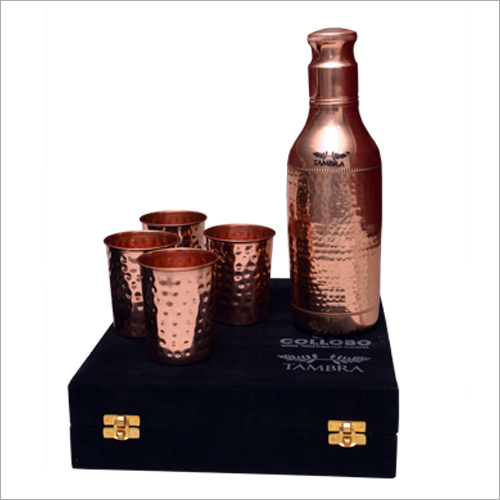 Copper Hammered Jug And Glass Set
Product Description
Tips On Drinking Water From A Copper Vessel, Correctly and Safely
The very first factor that could negatively affect your health is the quality of copper used in copper vessels. Make sure that whichever brand you choose has a rapport amongst the Ayurvedic community and is an authentic Ayurveda copper seller. If nto sure, ask questions before purchasing.
Before using the freshly bought copper vessel, such as a cup, lota, or water bottle, do not forget to rinse it thoroughly using a natural acidic solution such as lemon and water.
Fill the vessel or bottle with water for about 6-8 hours prior to initial consumption to allow the process of Oligodynamic to take place.
The best way to reap the benefits of this traditional practice is to fill the Ayurveda copper Lota, Cup, or Water Bottle with water at night, let it rest by your bedside so the water can get fully ionized, and then consume the water next morning.
Although there are numerous benefits, you don't need to drink water from a copper vessels all day long. Twice a day, once in the morning and once in the evening is enough. If you have a copper water bottle, you can choose to carry it all day and re-fill it regularly. This is not harmful and the copper bottle will continue to keep your water fresh and free of bacteria.
Contact Us
H-189, Sector-63 Noida Uttar Pradesh India +918037261896
Phone :+918037261896